Voedingsadvies

afslankprogramma's
De eeuwige strijd met de weegschaal: een herkenbaar gevoel?
Je kent het wel, dat vervelende jojo-effect bij diëten. Ons proteïnedieet staat garant voor het vermijden ervan: weinig suikers en koolhydraten en evenwichtige porties eiwitten, plantaardige vetten, vezels, vitaminen en mineralen. Er zijn 3 startprogramma's in het afslankprogramma van Ligna-Vita die je kan doorlopen in functie van het aantal kilo's je wil afslanken*.
Naast Ligna-Vita ondersteunen we je graag met andere goed uitgewerkte dieetprogramma's. 
Laat je correct begeleiden zodat we dit dieet samen tot een goed einde kunnen brengen. Ook voor het onderhouden ervan kan je bij ons terecht.
* Het eindresultaat is afhankelijk van bepaalde factoren zoals lichaamseigenschappen, motivatie, frequentie, …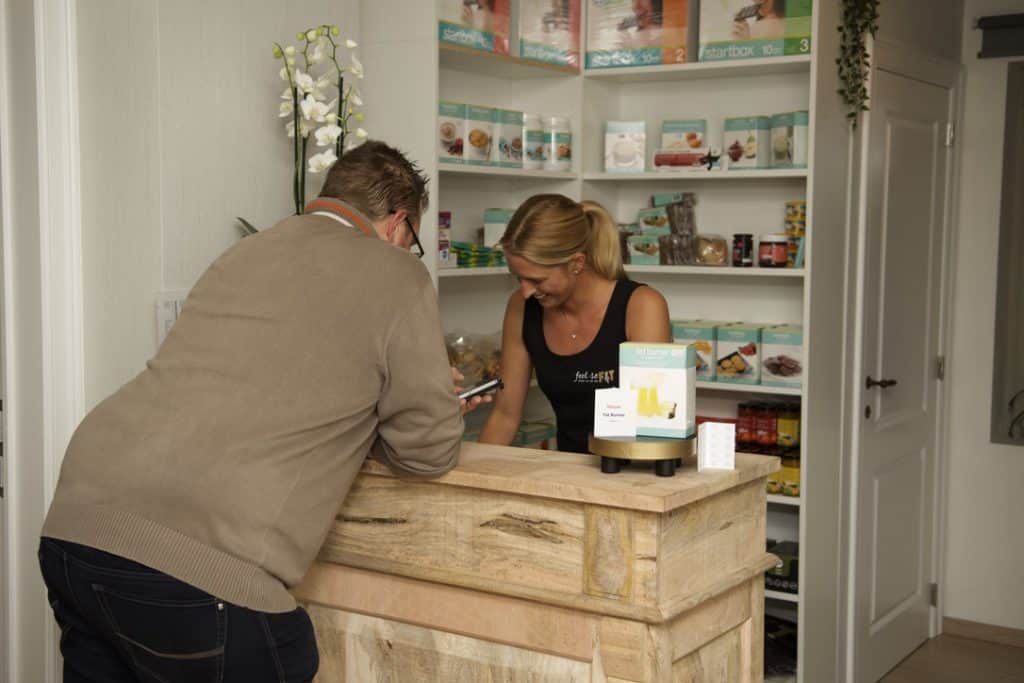 Voedingsadvies met Feel so Fit
Feel So Fit staat voor E-Fit en/of voedingsbegeleiding in een sfeervol en huiselijk kader, met een persoonlijke aanpak en een correcte begeleiding.
Bij het volgen van onze dieetprogramma's krijg je GRATIS persoonlijke begeleiding.
Alle info en producten om met het programma te kunnen starten, krijg je tijdens een persoonlijk intakegesprek. Het dagschema wordt overlopen en er wordt ook bekeken welke groenten je mag eten en welke beter niet, of je vis en vlees mag eten,… Natuurlijk houding we hierbij rekening met de combinatie van dieet en werk/gezin.
Eerst nemen we een 'Total Body Scan'. Zo meten we jouw gewicht, vetmassa, spiermassa, botmassa, vetvrije massa, BMI, visceraal vet (rond de organen), metabolische leeftijd en vocht. Op die manier wordt er een persoonlijk motivatieplan opgesteld om je doel te bereiken.
Daarna wordt er met het dieet gestart. Na één week volgt een nieuwe 'Total Body Scan' om te zien hoe de waarden positief evolueren. Hier zal het duidelijk worden dat niet alleen je gewicht aan het dalen is, maar ook dat je lichaam er gezonder en fitter op wordt!
Naast deze gezonde voeding bieden we ook gezonde beweging aan.
Electrofitness: Met E-Fit heb je een oplossing in slechts 2 x 20 minuten per week. Door middel van 20 pads die verspreid zijn in een vest, broek, arm- en kuitgordels krijg je een volledige Personal Body Work-Out.
Als je het liever rustiger aan doet, of je hebt last van rug of gewrichten, dan kan je ook de Beauty and Slim: E-relieve of E-shape doen. Dit is een zalig me-time moment van 20 minuten dat je ook kan helpen om je doel te bereiken.
Samengevat: de juiste voeding, beweging en op zijn tijd wat ontspanning zijn belangrijk in een gezonde levenswijze. Neem gerust contact op voor meer informatie of neem een kijkje naar de E-fit mogelijkheden.
Ik wil graag starten met het Feel So Fit voedingsadvies.
Vul onderstaand formulier in om een afspraak te maken. We contacteren je heel snel.